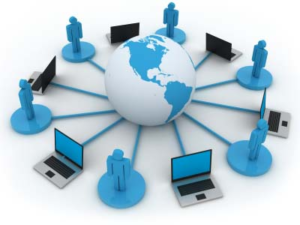 A Learning Management System (LMS) is a formal structure created to provide consistent access and data to teachers and learners. If your school provides a learning management system in which courses are stored and student data is warehoused, you will receive instruction from the school about how to use it. This will require you to become an intermediary between the system and your students.
These systems incorporate methods of tracking and reporting student information and participation. A typical LMS will include assessment tools providing data and test results to be used in determining student progress, but the teacher must still determine student learning.
There are a few key elements that are essential to learning management systems, and you should become familiar with how they work. If your school does not use an LMS and you must create a system for collecting and retrieving student data you can use the following list of common LMS instruments as a guide:
One login that provides access to all areas needed by learners and faculty.
The ability to register learners in appropriate courses and classrooms.
The ability to manage learners and their learning progress with grade books, drop boxes, and tracking systems.
The ability to create and organize course content.
The ability to provide interactive opportunities for learners via discussion areas, chat, email, and synchronous software.
The flexibility to be changed when necessary.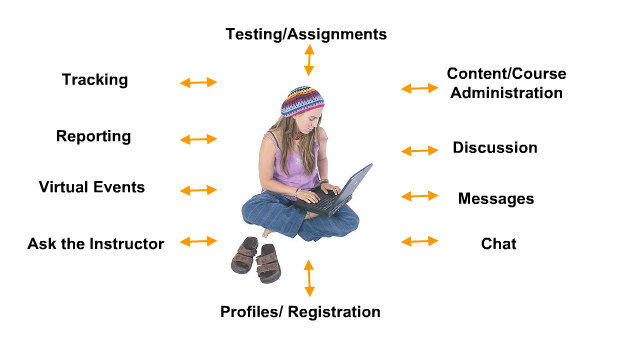 An LMS can bring many different elements of online learning together. It can also give the learner a greater picture of the learning community available to them. Some of the other benefits of using an LMS are:
A feeling of "arriving" in the learning environment.
A "first and final destination" so that the learner only has to travel to one site and enter one password to have access to the learning environment. This is typically called a "single sign-on".
Learners may be more motivated to complete coursework because of ease of access to all materials.
A place for relationships to build and ideas to be shared.
Instructors can present course materials and provide access to resources in an organized and inviting fashion.
Communication can become more seamless.
Assessment information can be entered and accessed easily.
Navigation of courses is consistent, following a common template.
If you are not using an LMS, try to embrace as many of these positive attributes as possible in whatever collection of course materials you use to create your own digital learning environment. For example, if you are using a free online service such as Google Hangouts, try to ensure that all students see the same things when they log in, and have access to the same materials in the same way. It is an excellent strategy to provide supplemental and differentiated materials to students with different needs, but these should exist in addition to a central hub that is accessed by all students.
Even if your school currently has an LMS, examine how it is being used. Determine what features are available, whether they are being utilized to their full potential, and what teaching strategies are supported. All of a teacher's specific needs are unlikely to be met by one LMS. Schools and districts typically opt for a "best fit" as their goal. When considering features and benefits, remember that you can add or subtract elements based on your teaching strategy.
Course Completion
One of the issues you may encounter is what to do when some students do not fully complete the coursework. There are many reasons why students don't finish:
Erroneous expectations about the online learning experience
Lack of deadlines and goal setting opportunities within the course
Poor instructional design
Lack of interaction and connectedness
This last point is the most common, especially for students not accustomed to exercising self-discipline, or those facing too many stressors. Often, students who are stressed by digital learning requirements need contact and feedback on a regular basis to stay on target. While communicating with every student on a consistent basis may seem like a daunting task, many teachers succeed at it because they have built strategies for dealing with this into their teaching plan.
An initial step is to consider why some students may find online learning more difficult. They may have had the impression that online courses would be easier to complete and have found out that is not the case. They may like the idea of completing their coursework whenever they want to so much that they have decided to put it off until the last moment, only to find out they can no longer complete the work by the scheduled deadline. When they realize this, they simply give up. Successful strategies that teachers have used to deal with these issues include:
Get a commitment at the outset. You can have students create their own document, or participate with other learners in the course in creating a document that states how many hours they are willing to commit each week, and how they will participate as a team member in the learning environment. An excellent tool is a Code of Conduct, that not only lays out the minimum time commitment, but also response times, how each learner will conduct themselves in conversations and participation in a group, and the level of respect to be shown to other participants, the instructor and the course.
Have a syllabus or course outline including learning objectives. Have every student read it, and have them "sign off" on having read it. This can be a critical resource in building the road map for each participant and at the same time forcing them to come to grips with the reality of the commitment they must make in order to be able to complete the work.
Have a regular review with learners as a group at the beginning of each week (or applicable period of time) about the assignments, discussions and other work to be accomplished. If your learners are not reviewing this on their own, this activity means you will know they have been exposed to it anyway, and allow you to communicate with and keep track of any learners who could not attend or participate. Follow up with them. Have students create their own personal learning calendar or provide one for them, and have them enter all upcoming due dates in their calendar. Prompt them to review their calendar each week (or applicable time frame).
Make yourself available each week during study time, not just coursework time. Plan for and provide a communication window and track who does and does not take advantage of it. Use this time to discuss participation rates. For example, if you expect each learner to log into the course at least three times each week, or if in the Code of Conduct each learner has pledged to complete all major assignments prior to their deadline, this is an opportunity to talk about how that is going, and if there have been slips, how they will be remedied.
Ask questions about the learners' experience as they work through the various stages of the course. Help learners to succeed by assisting them in identifying challenges as they come up, rather than too late to deal with them effectively for this time or at least the next time they may occur. Encourage them to make connections with fellow students and to share their difficulties as well as their triumphs. Encourage them to share coping strategies and have "buddies" with whom they may feel less pressure about discussing their challenges with the course, or the issues that affect their availability or level of interest.
Knowing that their challenges are also your challenges is part of what makes a teacher effective in a digital learning environment. You may believe your students need to take responsibility for completion of all assigned work, but that doesn't change human nature or the circumstances your students will face when working in what can be a relatively unstructured environment. Even your strongest students can fail at digital learning. It is important to remember that proficiency with course content does not equate to proficiency with learning methodologies.